How Do I Check My Car's Engine Oil?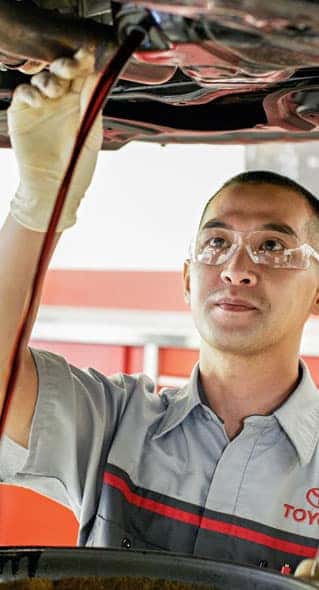 Your engine's lifeblood is its oil. You should always make sure your vehicle has enough oil to protect all the engine's internal moving parts, whether you're sticking to the streets of West Hollywood or heading far from Los Angeles and North Hollywood.
Steps to Check the Oil Level in Your Car
Newer vehicles have electronic oil monitors that don't use traditional dipsticks, but older models may not. Regardless, always start a vehicle inspection by consulting your owner's manual for recommendations on your specific Toyota model. Explore our Toyota Camry oil change guide for more information.
To manually check your oil, follow these steps:
Park the vehicle on level ground
Make sure the engine is turned off and cool
Open the car's hood and locate the dipstick
Pull out the dipstick and wipe oil from the end of it
Put the dipstick all the way back into the tube
Pull it out again, and inspect both sides of it see where the level is
Your dipstick might be different from others, but it will have some way of indicating where the proper oil level if. If you see that the top of your oil streak is between two marks or within a crosshatched area, the level is good. If it isn't there, you'll probably need to add more oil.
Again, check your owner's manual to see what oil grade the manufacturer recommends. Then, remove the oil filler cap, and add oil a little at a time until the dipstick indicates you've reached the proper level.
KEEP YOUR TOYOTA A TOYOTA
---
Car Maintenance and Oil Change Coupons
---
Latest Service Tips
If the maintenance light activates on your Toyota Camry dashboard, you most likely need to schedule an oil change or other Toyota maintenance in the West Hollywood area. Turn to us to help you reset your maintenance light with regular maintenance for your Toyota. If for whatever reason the light is still on after your maintenance appointment,…

It's easy to tell when your vehicle needs new brakes, if you know what to look for. Be sure to schedule brake service at our Hollywood, CA service center right away if you notice any of the following red flags during braking: Squealing or grinding noises Strange smells "Pulling" to the left or right Jutting…

If you're driving around North Hollywood, you want to make sure you're prepared for the unexpected. Check out this helpful emergency car kit guide from Toyota of Hollywood, and take another step toward getting ready for your next road trip out to Palm Springs or up to San Francisco in safety with a Toyota RAV4 or Toyota Camry….