How Long Do Car Batteries Last?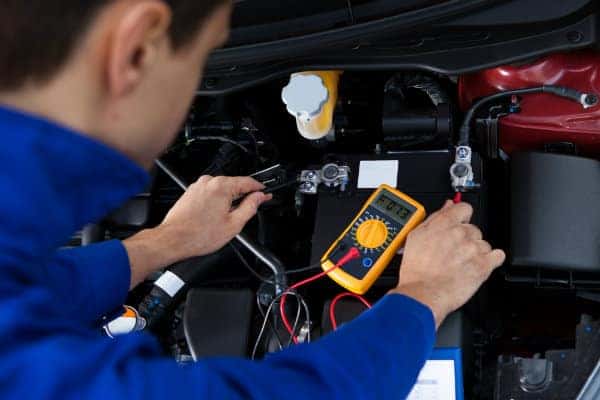 The average car battery lasts between 2 and 5 years, depending on your local climate and how you care for your battery. In an ideal environment with no outside variables, a car battery could last for up to 6 years.
What Affects Car Battery Life?
If you live in cooler areas up north, you can expect your battery to last longer. However, here in Hollywood, CA, your battery will probably die sooner due to water loss and sulfation. You can keep your battery alive longer with proper care — i.e., by keeping it fully charged, not leaving your lights on or accessories plugged in, and having it checked during routine maintenance at our service center. Contact us online if you think you may need a car battery replacement, or call our Toyota of Hollywood service department at 323-489-3785.
More from Toyota of Hollywood
If the maintenance light activates on your Toyota Camry dashboard, you most likely need to schedule an oil change or other Toyota maintenance in the West Hollywood area. Turn to us to help you reset your maintenance light with regular maintenance for your Toyota. If for whatever reason the light is still on after your maintenance appointment,…

It's easy to tell when your vehicle needs new brakes, if you know what to look for. Be sure to schedule brake service at our Hollywood, CA service center right away if you notice any of the following red flags during braking: Squealing or grinding noises Strange smells "Pulling" to the left or right Jutting…

If you're driving around North Hollywood, you want to make sure you're prepared for the  unexpected. Check out this helpful emergency car kit guide from Toyota of Hollywood, and take another step toward getting ready for your next road trip out to Palm Springs or up to San Francisco in safety with a Toyota RAV4 or Toyota Camry….