How Often To Change Synthetic Oil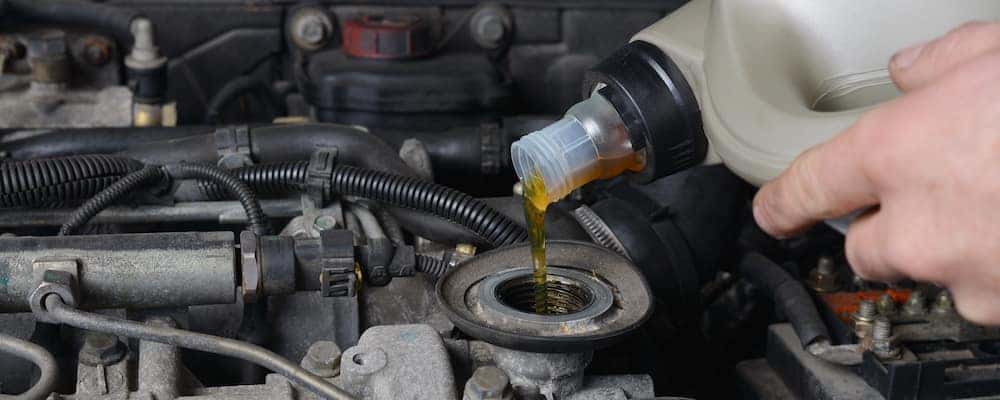 All vehicles need to have their oil changed on a regular basis, but how does the type of oil in your vehicle affect your oil change frequency? If you drive a vehicle that uses synthetic oil, you would be correct in thinking that the typical 5,000-mile oil change guideline doesn't exactly apply to you. So, how often do you change synthetic oil in your car? Most synthetic oils and synthetic blends will last between 7,500 and 15,000 miles.
If you're ready for a change, schedule service at the Toyota of Hollywood service center near Los Angeles. Our expert technicians know exactly what your vehicle requires, and we'll get you in and out in around an hour or less.
Synthetic vs. Conventional Oil
Your vehicle's owner's manual will tell you which type of oil is required for your vehicle's make, model, and model year. So, when it comes to choosing between synthetic vs. conventional oil, your decision may be made for you ahead of time. Although vehicles that use synthetic oil will have a longer oil change interval, using oil that hasn't been recommended is generally a bad idea.
Why Choose Synthetic Oil?
Synthetic oil is often more expensive than conventional oil, but since it lasts a long time, the overall costs tend to even out. As we noted above, it's almost never a good idea to use synthetic oil with a vehicle that was designed to run with conventional oil. However, when you're choosing a new vehicle, you might consider one that uses synthetic oil for the following reasons:
Longer Oil Change Interval: Oil changes take time out of your day, so many drivers desire the lengthen their oil change intervals. Since synthetic oil lasts longer, vehicles that use this product won't need to be serviced as frequently.
Better at Higher Temperatures: Synthetic oil has been designed to become less viscous than conventional oil when exposed to the heat of an engine. As a result, it's slower to degrade, even when you're doing heavy work.
Better for Performance: For the same reason, synthetic oil can stay cleaner for longer. This allows vehicles which use synthetic oil to perform better for longer periods of time, or whenever they're under pressure. Many high-performance vehicles require synthetic oil.
Most new Toyota vehicles have been designed to perform optimally with Genuine Toyota Motor Oil 0W-20, a synthetic oil.
Can You Mix Synthetic and Conventional Oil?
Using a blend of synthetic and conventional oil might be appropriate in some cases, but it's almost never recommended, except in emergencies. If you're mixing synthetic and conventional oil in order to save money, you're probably better off sticking with the manufacturer recommendation.
If you're experiencing an oil leak, and you need to add more oil in order to make it off the side of the road, mixing synthetic and conventional oil is better than driving with heavily depleted oil levels. Even so, you should make sure to visit a service center near West Hollywood or North Hollywood as soon as possible.
How Much Is a Full Synthetic Oil Change?
Oil change prices in Hollywood vary depending on what kind of vehicle you drive, and on what kind of synthetic oil that vehicle requires. If you'd like more exact information, contact our service department for specifics.
On average, a conventional oil change costs between $25-$50, and a synthetic oil change costs about $45-$70.
If you're looking for ways to save on your next oil change, be sure to check out our rotating selection of service specials. Our "Good, Better, Best" pricing structure can help you get the service you need for the right cost.
Get the Service You Need at Toyota of Hollywood Today!
Drivers from all over the North Hollywood area come to Toyota of Hollywood for exceptional service. Whether your vehicle uses synthetic or conventional oil, we've got exactly what you need. We've also made it easy to schedule service online.