2017 Toyota RAV4 Performance at Toyota of Hollywood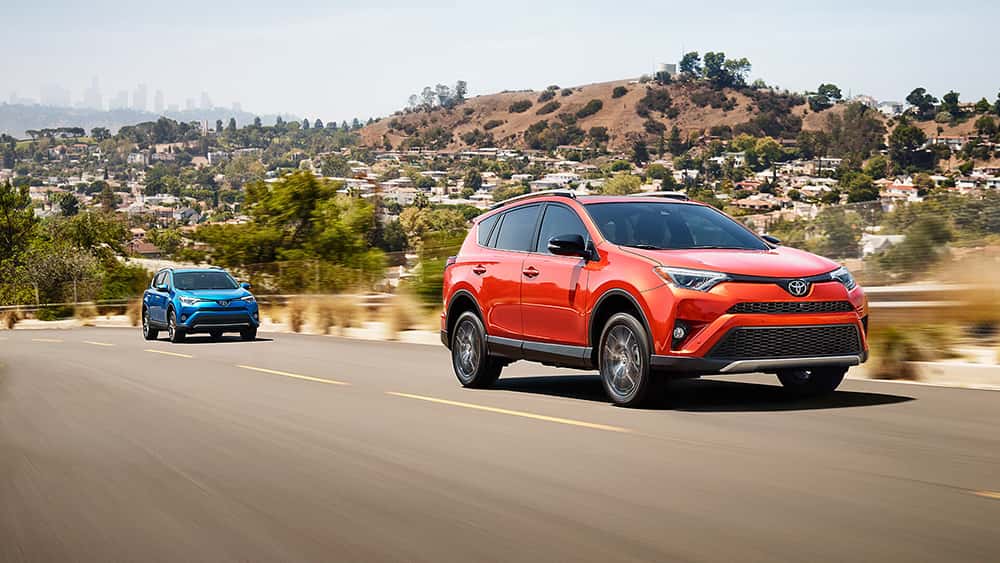 Reliable, capable, and efficient, the 2017 Toyota RAV4 arrives to Toyota of Hollywood with stellar performance to take care of your commutes and adventures in the greater Los Angeles area. Packed with features that give this compact crossover the charisma to take on any road, you're sure to enjoy every minute behind the wheel. Learn all about what goes on under the hood below, then stop by for a test drive to try it out for yourself!
Engine Specifications
Powering the new Toyota RAV4 is a 2.5L 4-cylinder DOHC engine. You can thank the Dual Valve Variable Timing with intelligence for added efficiency. It generates up to 176-hp for a lively kick behind the wheel, and 172 lb.-ft. of torque gives you the power you're looking for. This engine is standard across trim levels, excluding the hybrid model.
Transmission
Working with the engine, a 6-speed automatic transmission allows you to easily switch gears to get going on the road. This electronically controlled transmission with intelligence allows for better efficiency as well as boosted acceleration, so all you have to worry about is managing the pedals and steering while it seamlessly switches from one gear ratio to the next. You'll also have paddle shifters located next to the steering wheel to manually switch gears when you please.
Fuel Economy
Being caught in Los Angeles traffic can take a toll on your wallet when you're making constant stops at the gas station. That's why the 2017 Toyota RAV4 was designed to give you added fuel efficiency, no matter the configuration that you choose.
LE or XLE with FWD: 23 mpg city and 30 mpg highway or 26 mpg combined
LE or XLE with AWD: 22 mpg city and 28 mpg highway or 25 mpg combined
Limited with FWD: 23 mpg city and 29 mpg highway or 25 mpg combined
Limited with AWD: 22 mpg city and 28 mpg highway or 24 mpg combined
Other Performance Features
It's not just the engine and transmission that work to make the new Toyota RAV4 a top contender in performance for compact crossovers. Other special performance features were used in this vehicle's design to give you a dynamic and reliable drive for a top-notch driving experience.
Dynamic Torque Control: Upgrading to all-wheel drive means you'll have this added system. Power is delivered to both the front and rear wheels when it's needed so that you gain the most traction possible to take on any type of road, regardless of the weather conditions.
Sport-Tuned Suspension: This available suspension system allows you to have special blue shocks in the front of the vehicle for a more spirited driving experience that minimizes movement inside of the cabin, so you experience a comfortable ride without missing any of the thrills.
Driver-Selectable Modes: You can choose ECO mode when you want to minimize power usage for boosted fuel economy if you're caught in traffic, or you can select Sport mode which ups the power for a more fun drive when you're on open stretches of highway.
Smart Stop Technology: The engine has been designed with throttle-by-wire technology that recognizes when the gas pedal has accidentally been depressed if the brake pedal was hit first. This immediately stops the engine to avoid an accident and keep you in control.
Driver Assistance Features: A full suite of advanced technology constantly monitors the road so that you can make better driving decisions or intervention can be taken so that you maintain control. This available package includes Pre-Collision Detection with Pedestrian Detection, Lane Keeping Assist, Adaptive Cruise Control, and more.
Vehicle Stability Control: Because of the added weight of driving any SUV vs. a sedan, this feature monitors various performances of the RAV4's features to make sure all four wheels are on the ground and working to keep you moving in the right direction without risk of rollover or wheelslip.
Automatic Limited Slip Differential: Related to Vehicle Stability Control, this standard feature kicks in when you're driving at low speeds to monitor all four wheels for stability while you're navigating rough terrain.
Put the 2017 Toyota RAV4 Performance to the Test
Meet us down at Toyota of Hollywood to get behind the wheel of the 2017 Toyota RAV4 and try its performance for yourself. Our showroom is located at 6000 Hollywood Blvd Our friendly sales specialists are here to answer your questions, so don't hesitate to give us a call at (323) 300-5026. You can also contact us online with your inquiries and we'll be in touch with more information! We look forward to sharing the new RAV4 with you today!